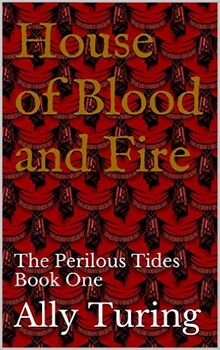 House of Blood and Fire is the first novel in The Perilous Tides series written by Ally Turing.
Cat Beaufils had a regular, teeange life untill she stumbles across a monster on the eve of her seventeenth birthday and has to fight for her life. When a strange boy who can control water helps her, Cat is introduced to a whole new world where mythological monsters and fastastical creatures not only exist but run wild among us.  Cat discovers she isn't the regular teenager she'd always thought she was and that her fate might be a lot more complicated than she ever thought.  As Cat enters this new world of wonders she might discover her life is more intertwined with these new allies than she realizes and that those she cares about the most might be in danger.
Daydream
Reality
Seventeen
Night Visions
Post Trauma
Capture
Benders
The Moreinstein
Incision
Misgivings
Field Search
Exposés
Insomnia
House of Cinis
Vindex
Morning Routine
Breakdown
Revamp
Underworld
Scorching
Nick Campbell - Cat's hipster, unbounded best-friend who's
Charlie Bicchieri - the third member of their group, Nick's girlfriend and a very understanding, helpful friend who tries to give Cat room to figure her issues out.
Community content is available under
CC-BY-SA
unless otherwise noted.